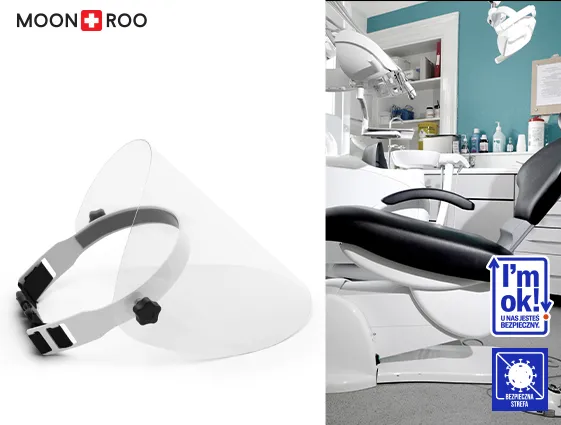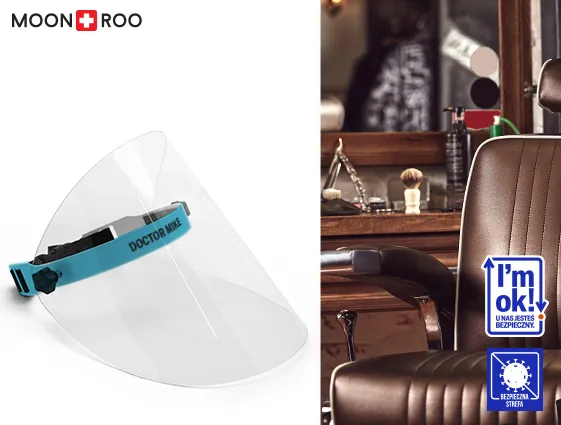 Available from 1 piece
MOONROO COVER premium visor with personalisation
Customised UV printing on the band
Choice of background and text colour, as well as font size and style
Band – PVC 2 mm
Replaceable pane – PET film 0.7 mm
Band size – 468 x 35 mm
Face shield size – 380 x 250 mm
Colour - colourless, very high transparency
The inside of the band - soft foam material
Comfortable clasp in the back of the head
Elastic bands to fit the shape of the head
Weight – 0.2 kg
Adapted for people wearing glasses
Pane of the face shield lowered by 2 knobs
Reusable
Choose between a version with or without the MOONROO logo
Resistant to disinfectants containing alcohol
Folding manual included
Manufactured in Poland
Safe, comfortable and precise work during the pandemic? Personalised MOONROO COVER premium face shield provides crystal-clear visibility and style tailored to your needs.
Busy? Relax - designing a printed face shield will take you only a few minutes! Use the intuitive configurator to select an optimal design, colour and text to be put on protective band. Do you prefer the version containing the MOONROO logo or not?
Give the face shield its own style and character (advertising)..
Personalised MOONROO COVER premium face shield has a removable protective pane and comfortable, adjustable clasp. The pane is distinguished by its excellent transparency, thus providing a large and sharp field of vision - even in difficult conditions. The MOONROO advertising face is characterised by its lightweight construction (only 0.2 kg) and soft foam, which protects the forehead from scrapes..