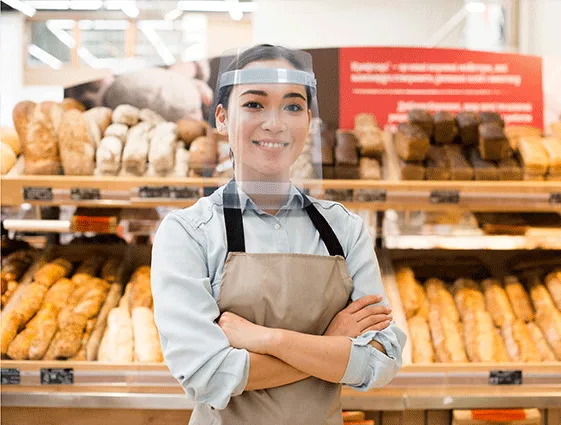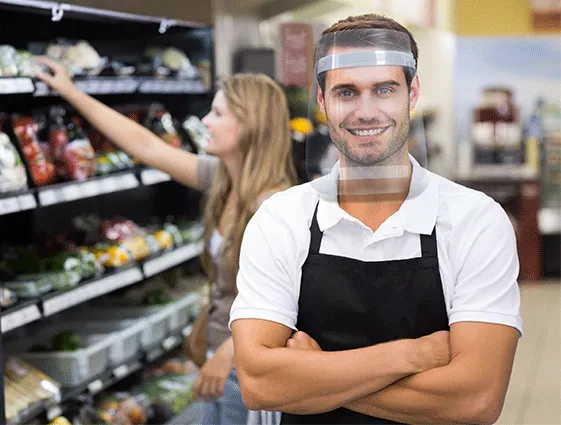 Available from 2 pieces
Protective face shield made of PVC minimizing risk of infection
3 models to choose from - visit the gallery and indicate the selected model in the order
Model 1 for adults - height x width of the pane 280 x 247 mm, face shield fastened with a rubber band
Model 2 for adults - height x width of the pane 280 x 247 mm, face shield fastened with a PVC belt
Model 2 for children - height x width of the pane 252 x 222 mm, face shield fastened with a PVC belt
Soft material belt for contact with a forehead
Weight: 0.06 kg
Material: PVC
Colour: colourless - transparent
Face shield thickness 0.5 mm
Assembled product, ready to use
Product resistant to disinfectants (also containing alcohol)
The face shield of lightweight construction makes it possible to wear it for many hours, ensuring the safety of face, eyes, nose and mouth. Rounded bottom of the face shield increases comfort of work, and additional 2 holes prevent fogging, thus enabling employees to communicate freely
The protective face shield and its entire construction is made of 0.5 mm thick PVC material. Thanks to its transparency, it provides 100% visibility and a wide field of vision while working.
Thanks to its well-thought-out design, the safety face shield makes it possible to wear corrective glasses or safety goggles. It also provides an additional layer of protection for the protective masks, at the same time extending their lifespan. For the sake of safety against bacteria, it is recommended to wear a mask and a protective face shield at the same time.
Protective face shield
Depending on the model, the protective face shield is attached with a rubber band or a plastic strap, allowing for the shield to perfectly fit with the size and shape of the head. The entire attachment is stable, which combined with a rigid visor reduces the risk of contact with germs and prevents from spontaneously touching the area of the face, chin, forehead and eyes.
The product is resistant to disinfection with alcohol-containing sanitisers.
The protective face shield is also suitable for employees of the chemical, healthcare and construction industries. It protects the face, nose, eyes and mouth which can be particularly sensitive areas for employees of these sectors.