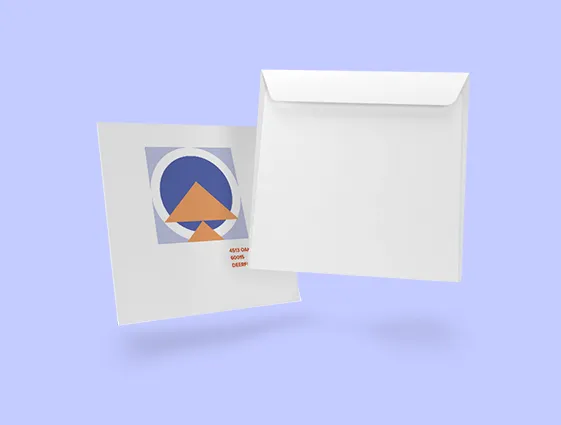 Available from 100 pcs.
9 format variants (vertical, horizontal and 2 square formats)
Offset paper from 70 to 100 g for traditional white envelopes
Olin 120 g paper in two colours: Regular Absolute White and Regular Cream for premium envelopes
Brown paper 90 g
Gray recycled paper from 75 to 100 g
Windowed or – for white envelopes – non-windowed version (not available in K4 and K45 format)
Olin Premium Line 120g as well as brown and recycled envelopes are not available in windowed version.
Printing 4/0 (up to 50% as standard)
Peel-off glue strip (on the short or long side) with the exception of the grey recycling envelope in C6 format, which is self-adhesive
Envelopes have inner masking print, which is not available in K45 format, Olin premium envelopes, brown envelopes and recycling envelopes
We provide volumes from 100–10,000 pcs, depending on the type of envelope
Printed envelopes, especially when complete with letterhead, will complement the company's visual identity. Envelopes are the best setting for company correspondence, invitations or marketing mailings. For special occasions we offer premium Olin 120g envelopes and standard envelopes for daily correspondence. You can choose between classic envelopes or envelopes with a window. The window is available in standard envelopes. You're wondering how to choose an envelope format? Nothing simpler - A4 sheet fits C4 envelope, C6 sheet fits A6 envelope, and you can put a square catalog in the format of 120 x 120 mm in the K45 envelope.
We print traditional envelopes on offset paper from 70 to 100 g (depending on the format). Premium envelopes are made of Olin 120g paper and are available in two colours: Regular Absolute White and Regular Cream. Brown envelopes are made of 90 g paper and recycled grey envelopes, depending on the format, are made of 75 g, 80 g and 100 g paper. All envelopes are self-adhesive with a tear-off seal (on the short or long side). Thanks to the internal masking print, the content will be additionally protected. On the envelope you can put not only the logo and claim, but also an intriguing slogan or graphics. You can fill as much as 50% of the obverse with your creativity - and in the highest print quality! If you want to print a larger area or both sides of the envelope - send us your expectations and we will prepare an offer for you. We can also price for you more quantity than we offer as standard.