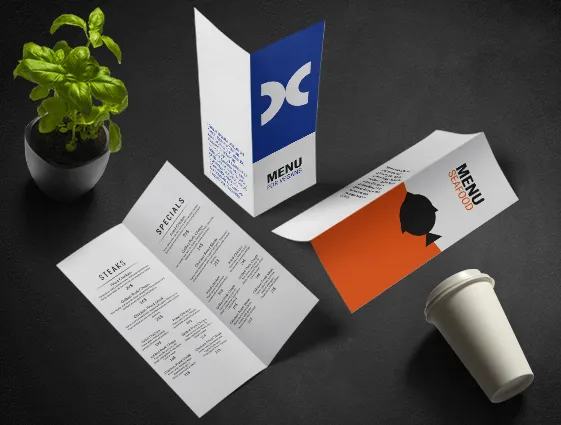 Available from 5 pcs.
Coated matt 350 g
4 formats - DL vertical, 1/2 A4, A5 or A4 (when folded)/li>
From 4 to 10 pages
Printing 4/4
Folded in half, in ""c"", ""z"" or "zig-zag".
Finishing - foil (gloss, matt)
Different designs within 1 order
Menu is not only a presentation of our offer but also a crucial element of the image of each venue. Folding menu is not only transparent but also practical - it can be laid or put on tables. Spice up each page of the menu with a large amount of creativity by printing various designs within one order.
You can choose between 4 formats (after folding): DL vertical (99 x 210 mm), 1/2 A4 (105 x 297 mm) and A5 (148 x 210 mm) or A4 (210 x 297 mm). You can print up to 10 pages - each one in juicy colours and made on durable coated matt 350 g. Folding menu is ready to take up even the most creative projects. As standard, each menu is secured with gloss foil or elegant matte foil..
Menus are packed in durable corrugated cardboard boxes.