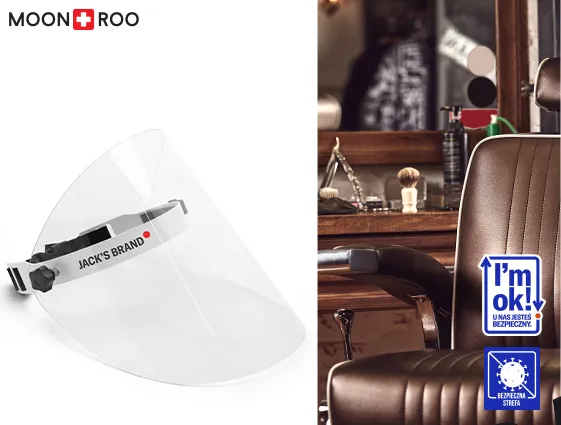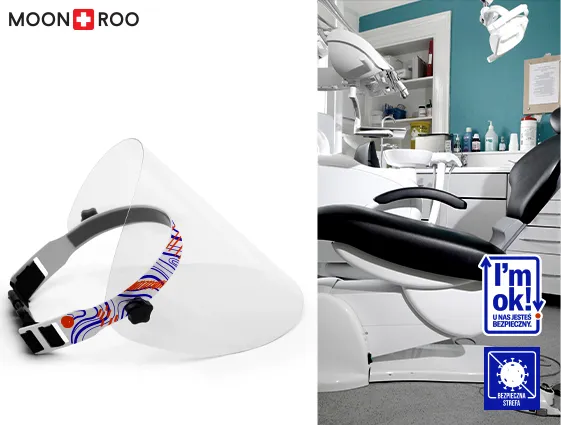 Available from 1 piece
MOONROO COVER face shield manufactured in Poland
Size of the face shield: 380 x 250 mm
Pane made of PET film 0.7 mm
Transparent pane allows working with computer
Colour: colourcless - very high transparency
Band made of 2mm PVC
Any print on the band
Band around the head made of foam material
Stretchy rubbers allows ideal fitting to the head shape
Comfortable clasp in the back of the head
Weight: 0.2 kg
Face shield adapted for people wearing glasses
Pane of the face shield lowered by 2 knobs
Reusable
Folding instruction manual included
Product resistant to disinfectants containing alcohol
Cooperation of Swiss structure and Polish design
Ensure proper protection for you and your employees. In accordance with the safety rules, face shields are an effective preventive measure against droplet-borne diseases. The MOONROO COVER protective face shield with printing designed by the Swiss design office is made of a user-friendly material that does not release unpleasant odours. Materials with a total weight of 0.2 kg ensure lightness of the whole structure. Crystal-clear pane ensures high comfort of work for people who use their vision as an indispensable tool during work - dentists, production workers, doctors or nurses.
You can print the MOONROO COVER premium face shield band according to your own idea. Download the manual and prepare your own printing design. Customize your face shield - create your own print design to be put on the fastening band..
Protective face shield - express yourself safely
Adjust a printed MOONROO COVER protective face shield to your style. Design a pattern or submit a ready-made motif to be placed on a PVC band that easily adapts to the shape of the head. The foam on the inside is pleasant to the scalp and does not irritate it even after a few hours of wearing. The protective face shield is also friendly for people wearing corrective glasses or additional protective mask. The pane which can be tilted by 2 knobs makes it possible to put the glasses on without having to remove the entire face shield. Rounded bottom of the pane increases comfort of work and also looks great.
Protective face shield reduces the risk of infection and effectively protects against involuntary touching the nose, mouth and eyes. Face shield material is resistant to scratching and cleaning with disinfectants containing alcohol.