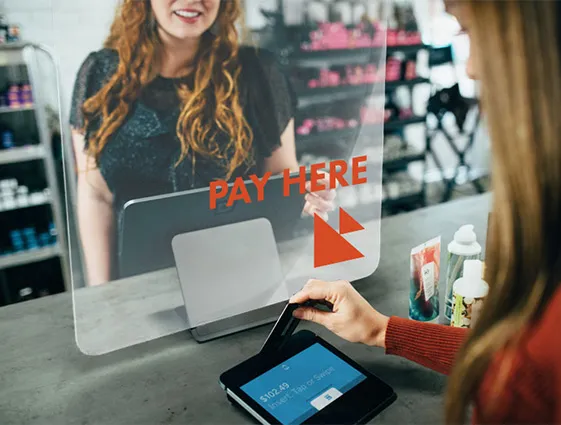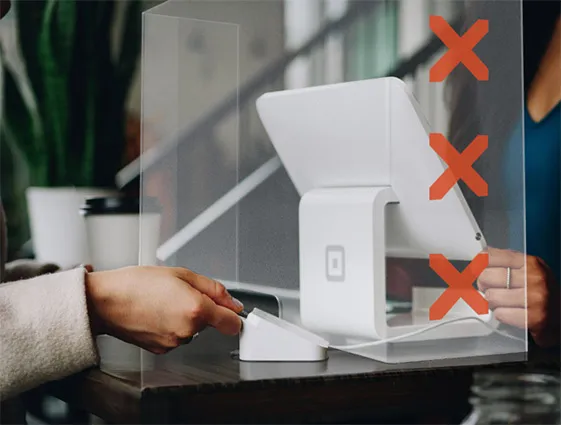 Available from 1 to 10 pcs
Protects againts bacteria and germs
3 types of screens (cut, bent, suspended)
Colourless
Cover thickness: 5 mm
6 sizes of plexiglass protective screens for counters or desks
3 sizes of protective screens with side panels
3 sizes of suspended protective screens
2 holes for easier mounting of the suspended screen
Easy to mount and use
Size of the cut out in standing screens: 40 x 6 cm
It can be disinfected with cleaning agents for general and specific use
There is an option to apply print
Plexiglass protective screen for counters or desks are an additional barrier reducing the risk of spreading airborne infectious diseases (including flue, pharyngitis, measles, cold or COVID-19). Ensure safety of your employees and customers with a flexible protective screen.
A plexiglass protective screen has a broad protective surface and a small cut out through which documents, shopping lists, payment cards, prescriptions, fuel cards or cash can be handed. The cut out is 40 cm wide and 6 cm high. It means there is enough space to hand all necessary items without direct contact with another person.
Plexiglass protective screen - ensure safety
Plexiglass protective screen is a physical barrier between salespeople and customers. Colourless material does not prevent eye contact, it also does not affect the appearance of the place. Plexiglass protective screen can be cleaned with such substances as: spirit, ethylic alcohol, window cleaning agents and extraction benzines.
Plexiglass protective screen will prove useful also in such places as: pharmacies, petrol stations, offices, banks, Customer Service Offices outpatient clinics, restaurants, grocery shops and drugstores, agencies, safety equipment shops.
Plexiglass is a material often used in advertising and printing. Its unique properties, combined with printing, create a lasting advertisement message, resistant to weather conditions and UV light.
The available option of printing on a plexiglass protective screen provides the possibility to create any message-strarting from information on opening hours, and ending with a phone number or a caution notice. Professional print on the plexiglass protective screen will be long-lasting and its colour will remain intense for a long time.
Pobierz dostępne modele i warianty osłon ochronnych z plexi.