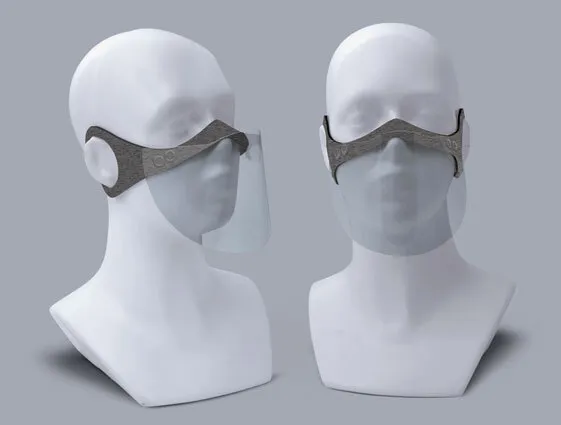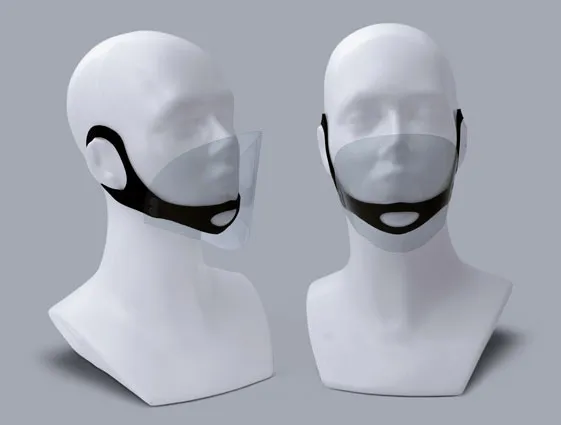 Available from 2 pcs.
2 models - on chin or nose
Model for nose - two sizes S/M and M/L - strip width: for S/M is 310 mm; for M/L is 330 mm
Model for chin - two sizes S/M and M/L - strip width: for S/M is 310 mm; for M/L is 330 mm
Cover - glass PVC 0,3 mm, dimensions: 200 x 110 mm
Strip - neoprene 2-3 mm - in two colours: black or gray melange, other colours soon
Mount with 4 pin clips
Optional cotton sack
Protective mini-cover for nose and mouth is light and comfortable. It can be used as an element increasing protection against drip-transmitted substances and unknowing contact between the mouth and nose and polluted hands. Half helmets are a solution dedicated to all those who want to protect themselves and others without sacrificing comfort.
Simple, light, re-usable!
The mini cover is an excellent alternative to disposable or cotton protective masks and full face helmets, and combines their advantages. The mini cover is lightweight and comfortable to use even for many hours and does not disturb breathing.
Next advantage of this product is its high transparency, therefore this type of half-shell is ideal for areas that require facial expressions to be exposed (e.g. education, speech therapy).
Effective protection with a comfortable and lightweight mini cover!
The mini cover is available in two variants - fixed to the nose (from the top) or to the chin (from the bottom). Both models come in two sizes - S/M and M/L and are an equally effective barrier against dangerous factors. The choice of model depends on individual user preferences.
The cover of each mini visor model is made of lightweight 0.3 mm thick PVC material, which is flexible and ergonomically adapts to the shape of the face. The visor can be cleaned and disinfected as often as needed, also with alcohol-based detergents.
Comfortable and strong neoprene band worn over ears, does not press or rub. The connection to the cover by means of four pin clips makes the band easy to disassemble and wash. The band is currently available in two colour variants - black and grey. We will soon be introducing new colours.
What do you find in the set?
The set of mini protective visor includes a transparent PVC cover, a neoprene band in the chosen colour, pin clips (4 pieces + 1 spare). The whole set is packed in a cardboard box.
For each mini visor you can also order a cotton protective case.