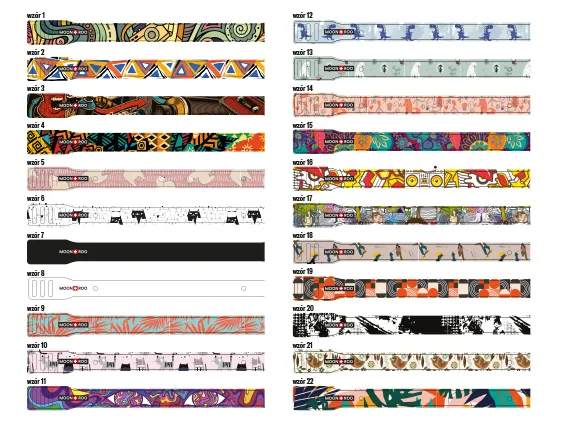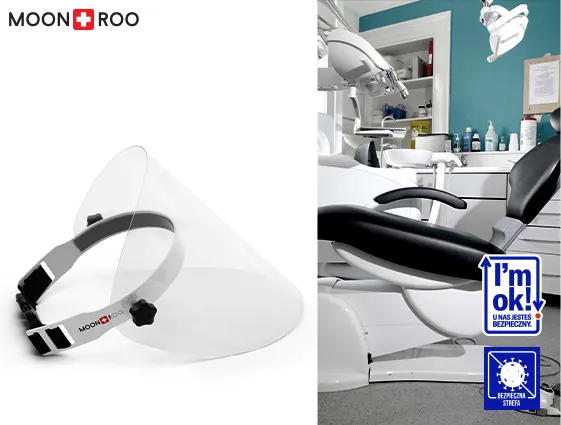 Available from 1 piece
The MOONROO COVER premium protective face shield was manufactured in Poland, according to the concept of the Swiss design office. Its pane is made of strong and durable PET material which ensures excellent transparency and creates an optimal field of vision.
A Swiss design studio prepared a model of the MOONROO COVER premium protective face shield, equipping it with a special clasp that improves comfort of use and a replaceable safety pane. Therefore, the face shield can be flexibly adjusted to personal preferences.
MOONROO COVER premium face shield is a professional protection for your face at work! It provides a sharp and clear field of vision regardless of conditions! Only the original MOONROO COVER premium protective face shields make it possible to print designer patterns on the fastening elements. We have prepared 22 patterns Select one of them for yourself.
.
We customize. You decide. You can order our face shield with any pattern. Place your own logotype, design graphics matching your visual communication. If you would like to order a face shield with your own imprint in larger quantities than those available in our shop - please contact us.
The MOONROO COVER premium protective face shield is equipped with a replaceable protective pane, which significantly extends its lifespan. High-quality pane ensures long-lasting transparency and high-level comfort of work. MOONROO face shields are perfect for service points (hairdressing or beauty salon), as well as for commercial spaces (stores, shopping malls, shoe salons, clothing boutiques, bookstores, customer service points)..
Product Specification:
Protective face shield made of 0.7 mm PET film is an effective protection against droplet-borne diseases
Size of the face shield: 380 x 250 mm
Pane made of 0.7 mm PET, secured for transport on both sides with foil
Band made of hard PVC (2mm)
Headband secured by a foam, body friendly material
Comfortably adjusted to the shape of the head thanks to elastic bands
Screws fixing the pane make it possible to raise and lower it freely
Simple clasp in the back of the head
Weight: 0.2 kg
Swiss design, Polish execution
MOONROO COVER premium protective face shield is a professional protective tool. It is fully adjustable to fit any head circumference. The soft foam inside the band increases the comfort of work and the comfortable clasp significantly increases the comfort of use. The face shield pane can be tilted by 2 comfortable knobs.
The protective face shield< z is made of 0.7 mm thick PET material. Protective pane of the face shield is fully transparent. It provides a sharp and clear field of vision regardless of working conditions! During the production and delivery process it is protected by a special protective foil, which must be removed before use.
IMPORTANT - Do not use the face shield when it has been mechanically damaged, e.g. due to glass breakage, scratches or damage to the pane fixings.
MOONROO COVER premium protective face shield is suitable for reusing. Light and durable structure ensures comfortable wearing throughout the day. The face shield is an effective protection of the face, nose and mouth, reducing the risk of infection in contact with third parties. Wearing a face shield also limits touching the mucous membrane of the eyes, nose and mouth with dirty hands.
MOONROO protective face shield has a rounded bottom, which increases comfort and safety of work. Thoughtful design allows wearing correction or protective glasses. Face shield has been designed in cooperation with the Swiss design office. Whereas the whole production process was located in Poland. The product is made of high quality materials and is resistant to disinfection with agents containing alcohol. Protective face shield is also a product designed for people working in the medical, pharmaceutical, construction and chemical sectors, in which contact with eye irritants is particularly severe. The face shields are also used in the customer service and food sectors, as well as at petrol stations.