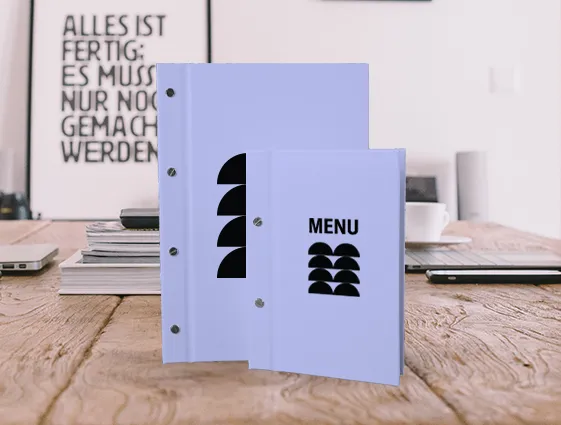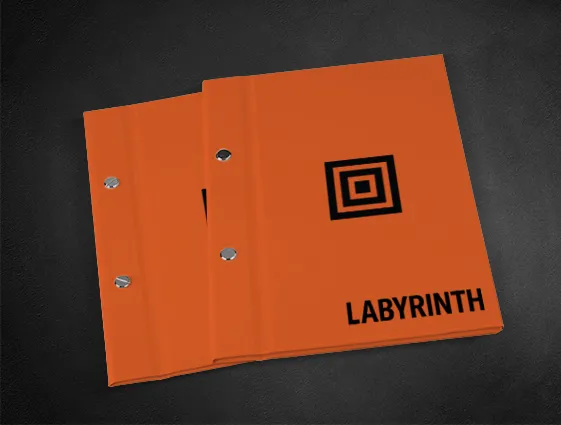 Available from 5 pc.
Format A4 or A5
A4 format before twisting: 438 x 311 mm, after twisting: 219 x 311 mm
Format A5 before twisting: 314 x 224 mm, after twisting: 157 x 224 mm
Coated gloss 170 g, 1,9 mm solid cardboard
Volume of up to 8 menu cards (350 g)
4/4 printout (casewrap and endpaper)
Refinement - foil (gloss, matt); matt foil + selective UV varnish (casewrap)
Silver bookbinding screws - 4 screws for A4 format, 2 screws for A5 format
Not only will the case protect the menu from damage, but it will also be an eye-catching frame. It will work in all restaurants that value dedicated solutions. Print appetizing graphics - in A5 or A4 format. We have framed the case with silver bookbinding screws, so you can easily replace or refill the cards (the case holds up to 8,350 g cards).
Print the case for menu cards - serve an appetizing design
Your design applied on a glossy 170 g coated substrate, reinforced with 1,9 mm thick solid cardboard. Thanks to the colour printing on both sides - you will create an original setting for each menu. To add extra depth to the design, choose a refinement with glossy foil. If you want subdued elegance, choose a matt foil and a UV selective varnish. Apparently, this case is hard to resist - will you try?
Cases are packed in durable corrugated cardboard boxes.