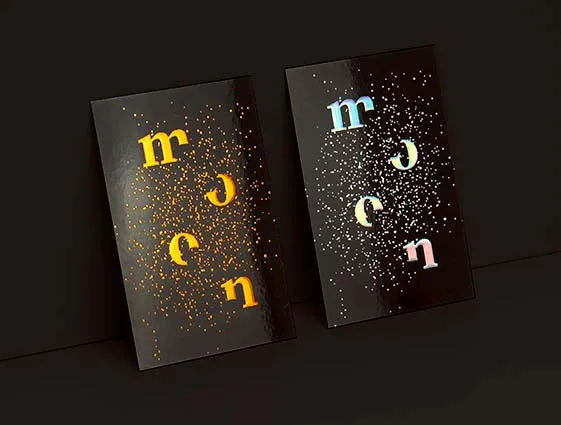 New foil colours now: in addition to gold and silver, also red, copper, rose gold and holographic - also double-sided.
Premium business card printing starting from 50 pieces
Nothing is more prestigious than a premium business card. That is why at drukomat.pl we are extending our offer with a novelty, which are business cards in which it is possible to apply such enhancements as foiling, 3D UV varnishing and the use of selective relief foil in 6 exclusive colours.
Dimensions: 90 x 50 mm and 85 x 55 mm
Papers to choose from: silk 350g and Tintoretto Gesso Touch Class 300 g (white with felt texture)
Printing: 4/0, 4/4
Polishings (silk): matt foil, glossy or soft touch (on both sides), gilding and silvering (single or double-sided), 3D UV convex varnish (can be applied on one or both sides)
Tintoretto Gesso Touch Class: coloured foils (single or double-sided), 3D UV convex varnish (single or double-sided)
Available print runs: 50,100, 250, 500, 1000, 2500, 5000
Premium business cards - you deserve it, your business deserves it!
Reach new contractors and business partners by making a memorable impression on them. Premium business cards, which you will find in our offer, will help you to do that. We give you a lot of choices - Tintoretto Gesso Touch Class decorative paper, to foiling, selective colour foil effect and 3D convex varnishing of selected elements of a business card. Mix enhancements and play with form, making your own business cards unparalleled!
Business selectively refined with colour foil
Want to make your product stand out from the rest? Choose varnished business cards! Use the potential of this finishing and surprise with the effect. Covering a business card with a convex 3D UV varnish is an interesting procedure which attracts the recipient's attention already during the exchange of business cards, because the layer of varnish protruding above the printed surface is clearly perceptible to the touch and is an impulse to pay attention to what is on a business card. Choose a product on 350g silk paper with double or single side varnishing on the front. YVersions of business cards, made on silk paper are additionally covered with matt foil (on both sides). Regardless of the choice of paper and other refinements, business cards with 3D varnish will be a hit!
Silver coated business cards
Premium business cards are not just the 3D ones with lacquer finishing. When a surprising design is the aim, also such solutions as such as the use of selective colour foil: silver, gold, red, copper , rose-gold or holographic. Silvered business cards are a perfect method to make a flash in the eye (literally!) of a person who receives a business card. For such a reaction it's definitely worth taking a risk with a slightly more daring creation. Silver plating or other colour enhancement on the front is available in every version of premium business cards, both those printed on silk paper and Mohawk EggShell in 4/0 and 4/4 printing options. Business cards on silk paper are always finished with matte foil - it's on this foil that 3D UV varnish is put, as well as silvering and coloured foil. Silvered business cards or gilding are a unique printing product, therefore it's worth having it among printed materials promoting the company or the brand.
Premium business cards Equally impressive if you add red, copper, rose gold or holographic elements! This is as interesting an addition to this product as silvering or gilding - the choice will depend on the style you want to maintain and the associations you want your business card to evoke. Selective coloured foils plating on the front side is available on all premium business cards - both those printed on silk paper and and decorative papers in 4/0 and 4/4 printing options. Business cards printed on silk paper are additionally enriched with matte foil on both sides. So which option do you choose, silver or gold plated business cards?
.
Premium business cards can be ordered in editions from 50 to 5000 pieces.
Are you looking for a custom solution? Ask us about fulfillment options.
Other products with UV3D varnish and coloured foils are coming soon.