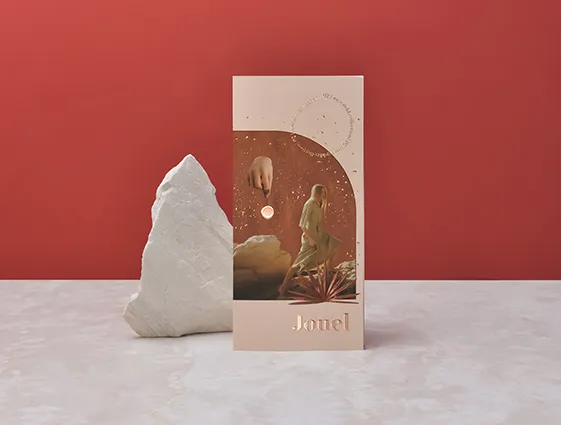 New! Folded flyer printing with relief foil and 3D lacquer
Premium folded flyers from 20 pcs.
9 formats to choose from
Choice of papers: silk 200 g or 300 g,
Printing: 4/0, 4/4
Lamination (silk only): matt, gloss or soft touch foil (one or two sided)
Finishing: colour selective foils (one side), 3D UV relief varnish (one side)
Available foil colours: gold, silver, red, copper, rose-gold, holographic
Available quantities: 20, 50, 100, 200, 300, 400, 500, 600, 700, 800, 900, 1000
Now order your folded flyers in a premium version as well. Print your flyers with relief lacquer, gilding, silvering or other metallic foils. You can choose from 9 formats and countless design possibilities. Choose the optimum format and substrate and browse through the available finishing options.
Folded leaflets - with relief foil and 3D varnish
We will print your folded flyers on substrates that will highlight the colours well. You can choose between 200g or 300g silk or 216g. In the case of a chalky substrate, before applying further layers of finishing, we recommend covering it with foil (your choice - matt, glossy or velvety).
Premium folded flyers are useful for promoting unique events or products. If you want to make your message stand out, use the possibilities offered by multi-layer finishing. Are you looking for a subtle but significant accent? Choose leaflets with 3D lacquer. The texture can be felt under the fingers and the visual effect is impressive. 3D lacquer on flyers can be combined with other types of finishing to create unique layers, distinctions and divisions of space.
Leaflets with coloured foil - gold, silver or hologram?
We can also add a layer of metallic decorative foil to your folded premium flyers. If you are looking for an impressive effect, order your flyers with foil in a colour of your choice - silver, gold, rose gold, silver, red or holographic. You can use colour foil or 3D varnish to cover graphic elements, logos, bullet points or blocks of text. Order folded flyers that will intrigue you with their form and keep you captivated with their content..