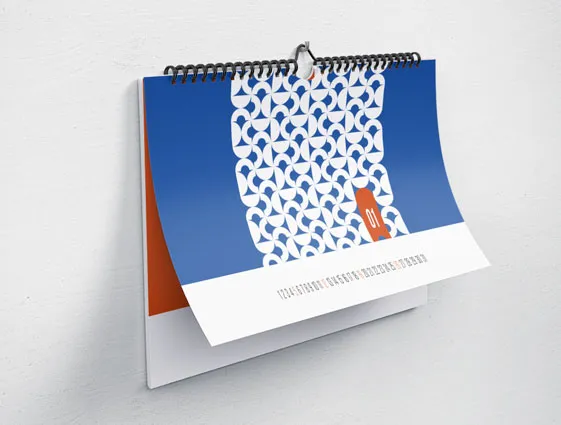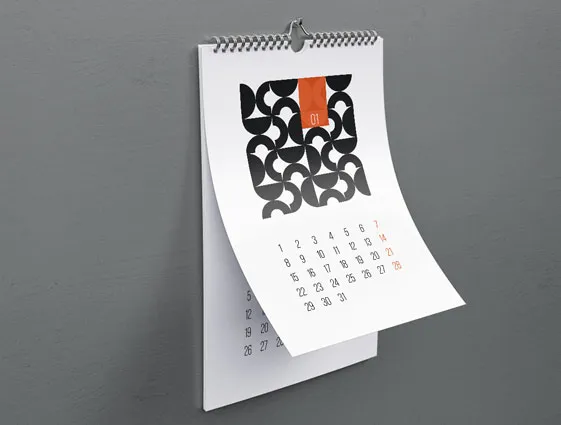 7 formats (vertical or horizontal)
Double-sided printing (1 + 6) or single-sided printing (1 + 12)
Internal sheets – 150 g offset or 170 g coated overlay paper
Cover – 250 g offset, 350 g mat, or 250 gloss coated overlay paper
Three colours of coil (spiral?) and hanger hook - white, black, silver
1/0 cover refinement–foil (matt, glossy); UV varnish
Printing 4/0 or 4/4
We will print spiral-bound callendars which will be displaying new pages of your creativity, all year round. Each month can be filled with a legible schedule and inspiring, colourful designs. You can choose between single-sided colour printing of 1 + 12 sheets, or double-sided of 1 + 6 sheets.
Spiral-bound calendars - reliable all year round
We offer seven formats of multi-page wall calendars, both vertical and horizontal. Internal sheets are printed on 160 g offset paper or 170 g coated overlay paper. Covers are made on 250 g offset paper; or on 250 g glossy, or 350 g matt coated overlay. Additionally, the cover can be refined on one side with matt or glossy foil, or with UV varnish, so as to ensure it offers an alluring introduction to next year. Remember to choose the colour of the hanger hook–do you prefer a black, white, or silver one?
Calendars are packed in shrink wrap foil into durable corrugated cardboard boxes.